Venue Info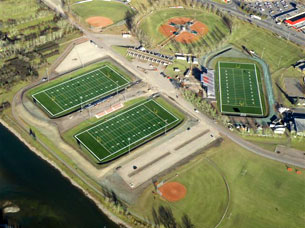 *CHAMPIONSHIPS WILL BE PLAYED AT
SHOULDICE ATHLETIC FIELDS
1410 HOME ROAD NW
*ALL GAMES WILL BE PLAYED ON HELLARD FIELD
SHOULDICE FIELDS REGULATIONS

Please respect these facilities and adhere to the following guidelines:

Only players, coaches, officials and trainers allowed on the field
No spectators are allowed on the field
No smoking, chewing tobacco, vaping, or nicotine spray is allowed on the field, locker rooms or concourse areas.
No sunflower seeds, pumpkin seeds, gum or other food or drink (excluding water) is allowed on the turf
Locker rooms are to be left clean with all garbage (used tape, etc) put in garbage bins

Any breach of these policies or guidelines may result in a fine of $250.
Thank you for your cooperation.
http://www.calgary.ca/CSPS/Recreation/Documents/Athletic-parks/Shouldice-athletic-park-map.pdf
http://www.calgary.ca/CSPS/Recreation/Pages/Athletic-parks/Shouldice-artificial-turf-fields.aspx
PARKING

All teams are requested to arrive as a group and in uniform/warm-up attire to facilitate entry at the admission gate.
Only athletes and coaches who are listed on the official roster registration will be permitted free access to the facilities.
THREE large authorized parking areas will be clearly marked.
Attendants will be on hand to direct traffic to ensure smooth entry and exit for busses and cars.
Bus parking is west of the fields and will be clearly marked.
Players must NOT be dropped off at the field gate. Busses are to park and drop off in the designated Bus Parking lot.
PARKING/TRAFFIC FLOW MAP