Accomodations
Rooms (non-smoking quad share) have been pre-booked for the tournament at the Championship Hotel - The Best Western Plus Service Inn and Suites. Other block booked accommodations have been booked in Lethbridge. It is strongly encouraged that Zone Secretaries book rooms in advance as there is a cancellation deadline for these hotels of MARCH 8th. Please limit your bookings to participants and not for parents/spectators. Identify yourself as an ASAA 4A Basketball Provincial Championship participant when booking.
Hotel: Best Western Plus Service Inn and Suites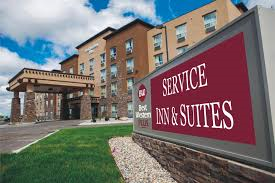 Address: 209 - 41 Street South
Phone: (403) 329-6844
Website: www.bestwesternlethbridge.ca
Contact person: Bruce Primeau: General Manager
Email: gm@bestwesternlethbridge.ab
Room Rates: 50 rooms have been block booked for each night - March 15,16 and 17. Room rates are $123.24 for a quad - Plus 11.18% hotel and GST. Hot Breakfast is included
Parking: No charge on site
Other Block Booked Accommodations in Lethbridge
There are another 100 rooms that have been block booked for the championship. As per the ASAA Hotel Sponsorship agreement, once all rooms are filled at the Best Western you will be forwarded onto the four other hotels that have block booked rooms.
It is imperative that Zone Secretaries per-book rooms for their Zone teams in advance of the March 8th booking deadline that guarantees rooms.