2018 Tier I Team Handball Provincials
Thursday, April 26, 2018 (All day)

to

Saturday, April 28, 2018 (All day)
Congratulations
Congratulations to the St. Peter the Apostle girls and the Lillian Osborne boys for winning gold at this year's ASAA Tier 1 Team Handball Provincial Championships!

Women's Results
Gold - St. Peter the Apostle Spartans
Silver - Lillian Osborne Legends
Bronze - Salisbury Sabres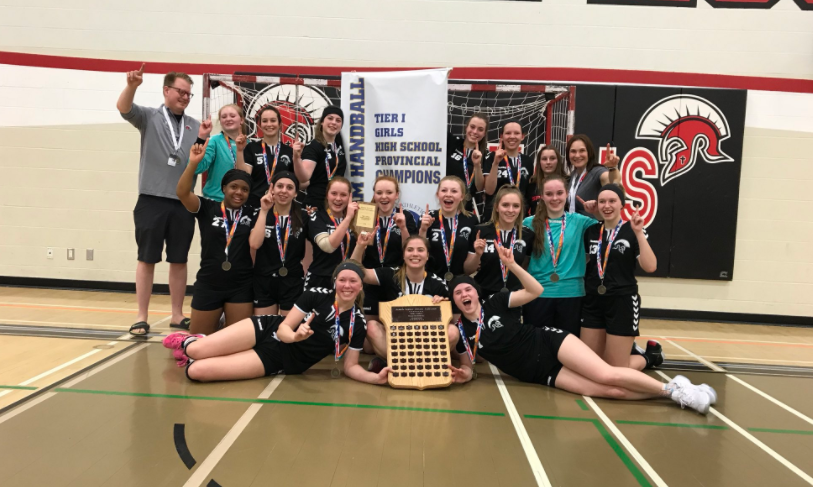 Men's Results
Gold - Lillian Osborne Legends
Silver - Bev Facey Falons
Bronze - Harry Ainlay Titans
Welcome to the 2017/18 ASAA Tier 1 Handball Championships
On behalf of St. Peter the Apostle Catholic High School, it is our pleasure to welcome you to this year's ASAA provincial Championship tournament. We are proud to be hosting our 3rd provincial championship in Spruce Grove, and we hope everyone has a great time.
Attending a provincial tournament is the culmination of much dedication and hard work. Athletes who are lucky enough to get to this point should take every opportunity to thank their coaches and parents, as without them this experience would not be possible. Remember, not every team gets to be here, but every team would love to be.
Our school community has worked hard to put this together and it would not be possible without our countless volunteers. Everyone from the scorekeepers, to the tech crew, to the photographers, to the parents keeping the coaches room full of food has worked very hard to make this the best tournament it can be. Thank you for all you have done.
I hope everyone has an amazing experience; play hard, have fun, be good sports, and build yourself some memories that will last a lifetime. If I can be of any assistance during your stay here please do not hesitate to contact me.
Sincerely,
Chris Delano
Athletic Director, St. Peter the Apostle
2018 ASAA Handball Provincials Chair