Host Town Info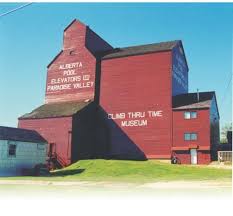 Paradise Valley is a small village of approximately 200 people in east central Alberta, located just off Highway 897, approximately 40 kilometers south of the town of Kitscoty. The economic base of the village is largely agricultural. Nearby hog operations and the Co-Op seed cleaning plant also contribute to local production. Paradise Valley has a long and rich agricultural history. The town was once host to six grain elevators along the rail line. Now, only one still stands, having been converted to the Climb Thru Time Museum. The first school in the village was opened in 1930 - this was torn down and replaced with a new school in 2016.
The Climb Thru Time Musuem will be open to the public March 14-16 from 10:00 am - 5:00 pm. The museum showcases life in western Alberta from before settlers arrived to present day. Admission is by donation. Be sure to check out this historical landmark during your visit!
There are several churches in Paradise Valley as well as a public arena and curling rink on the north side of town. The village office, post office, firehall and village shop are all located downtown. The Agricultural Society Hall and Alberta Treasury Branch can also be found downtown.
There is no longer a fuel station nor ATM in town: visitors and residents requiring these services will need to travel to a larger center such as Kitscoty, Wainwright or Lloydminster.