Code of Conduct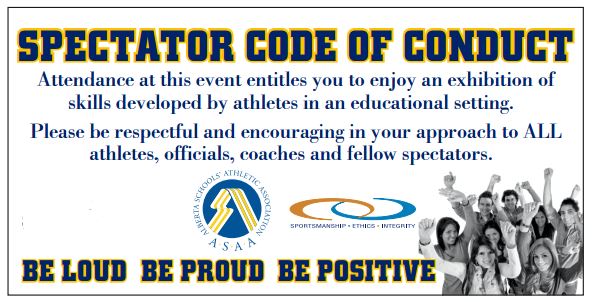 Spectator Code of Conduct
Spectators should:
Consistently give positive feedback to players and others.
Welcome opponents.
Present positive comments before, during and after the game. Spectators, both student and adult, must demonstrate courtesy and good sportsmanship by positive cheers of encouragement for their team, not against the opposing team. This is evidenced by the absence of booing and vulgarities.
Be helpful to others (i.e. willingly offer information about the game, score, scheduling, venue locations, etc. to onlookers)
Spectators must also show proper acceptance of officials' judgment.
Artificial noisemakers are not permitted during provincial championship tournaments/events. These noisemakers may include but are not limited to: air horns, cowbells, plastic tube horns, garbage can lids, etc. The provincial championship host shall have the authority to eject from the competition facility individuals who, following a warning, refuse to comply with this requirement.

No Smoking Policy:
All school property is smoke-free facilities. Smoking, vaping, and marijuana use by athletes, parents, and spectators is prohibited anywhere at Sturgeon Composite High School.
During Wednesday & Thursday competition and activities please be advised that classes will be in session during class time and other events will be going on in the school. Please be courteous and respectful during this time and for the duration of the tournament. Please be sure to only use your gym footwear and practice balls when in the gymnasium(s). Absolutely no warming up or playing with balls outside of the gymnasiums.
*Please note that noisemakers are not permitted during Provinical Championship tournaments.