Virtual Track & Field Challenge
Category
ASAA News and Information
It's time to get ready!
School registration for the ASAA Virtual Track & Field Challenge is open! Here's what you can do to get you and your student athletes prepared to participate from May 15 to June 5:
Coaches:
Get your AthleticNET account set up by following these steps. Watch this video for more information.
Help your student-athletes register by sharing your team code. Each ASAA high school already has a team page on Athletic.net. Your team code can be found at the top of your team page.
Be ready to validate your student-athletes' submissions before June 5 by reviewing these instructions.
Student-Athletes:
Parents:
If any parents wish to register their child rather than have their child register themselves, please follow these directions.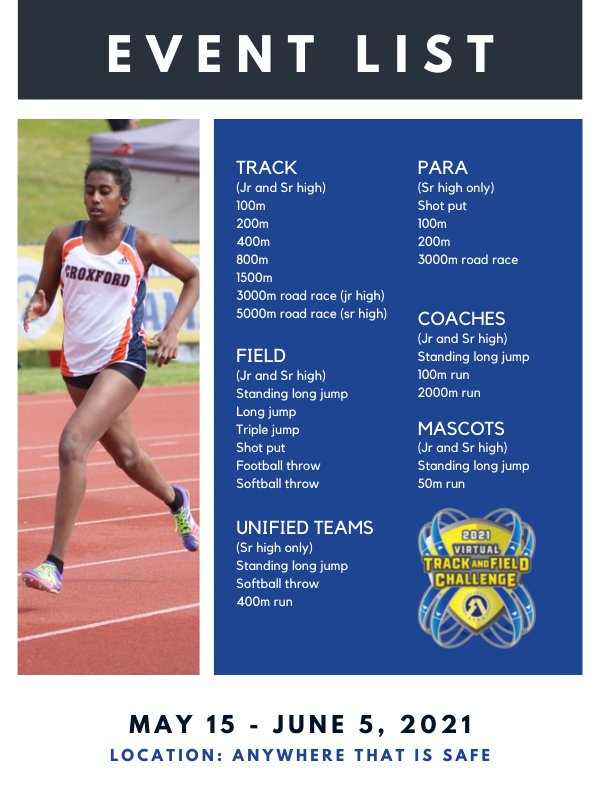 FAQs:
How much does this event cost?
This event is FREE to register and participate! Swag will be sold May 15 to June 5 if anyone wishes to purchase event merchandise.
My students are learning from home, can they still participate?
YES! This challenge is designed to participate from home or in school!
My Unified Sports athletes are not in the same location as their teammates. Can they still participate?
YES! Each teammate's performance can be recorded separately and then and added together manually. Teammates do not need to be in the same physical location to be on the same team.
More information will be sent out on how to register a Unified Sports team soon.
Do the student-athletes have to do all of the events?
No, they can pick and choose whichever events they'd like to participate in out of what is offered for their group.
For more FAQs, scroll to the bottom of this page.