Spectator Information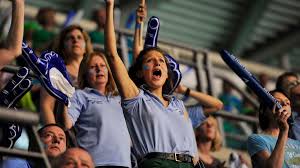 SPECTATOR INFORMATION
HLPS is excited that you have decided to join us for 2A Basketball Provincials.
SPECTATOR CODE OF CONDUCT
Spectators should:
Consistently give positive feedback to players and others.
Welcome opponents.
Present positive comments before, during and after the game. Spectators, both student and adult, must demonstrate courtesy and good sportsmanship by positive cheers of encouragement for their team, not against the opposing team. This is evidenced by the absence of booing and vulgarities.
Be helpful to others (i.e. willingly offer information about the game, score, scheduling, venue locations, etc. to onlookers)
Spectators must also show proper acceptance of officials' judgment.
Please Note
Artificial noisemakers are not permitted during provincial championship tournaments/events. These noisemakers may include but are not limited to: air horns, cowbells, plastic tube horns, garbage can lids, etc. The provincial championship host shall have the authority to eject from the competition facility individuals who, following a warning, refuse to comply with this requirement.
PARKING:
Parking is available in the main lot (more info to follow)
SPECTATOR ADMISSION:
Spectators will be required to pay cash admission.
Weekend Pass: $20.00 (includes a program)
Adult Day Pass: $10.00
Student Day Pass: $5.00
Children 7 & Under Day Pass: $5.00
Children 7 & Under Weekend Pass: $10.00
SCHOOL REQUESTS:
Please be advised that classes will be in session for High Level Public students for Wednesday and Thursday. Please be courteous and respectful during this time, keeping team traffic to the gym and cafeteria area of the school.
CONCESSION:
An amazing concession will be available, it will be CASH ONLY. Thursday, Friday, and Saturday. A variety of food and beverage options will be available throughout the tournament.