Registration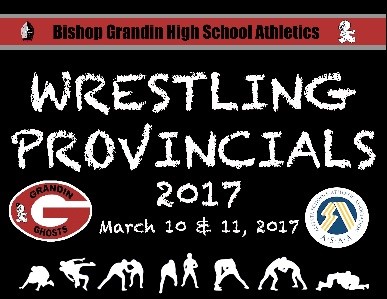 ENTRY FORMS, CHECK-IN, and FEE PAYMENT

REGISTRATION INFORMATION:
All Entry Registration forms must be received no later than 10:00am on Monday, March 6, 2017 from the Edmonton, Calgary, and Rural Zone coordinators. Only one (1) Entry form per zone (Edmonton, Calgary, Rural) will be accepted. Competitors must be placed in the correct weight class and must be listed in order of finish at the qualifying competition for the Provincials (1 to 5). Changes will only be allowed in any weight class of the team (Calgary, Edmonton, and Rural) that has already registered and are expected to pay for a competitor in that weight class.

NOTE: It is the responsibility of the Rural Provincial Meet Chairperson and the Calgary and Edmonton City Championship Meet Chairpersons to coordinate and submit entries for their respective Zones by the deadline.

Please send Entry Registration Forms via email to:
Wade Buteau (Bishop Grandin - Host Chair) at wade.buteau@cssd.ab.ca
Neil Domstad (Wrestling Commissioner) at domstad@rundle.ab.ca
Michael Steele (ASAA) at michael@asaa.ca
Ralene Goldade (CSHSAA host) at ralene.goldade@cssd.ab.ca

CHECK-IN:
Check-in for all competitors will take place on Friday, March 10th @ 10:00-10:30am in the Main Gymnasium - Main Floor prior to the Skin Checks and Weigh-Ins.

Lunch will be provided to each athlete after they weigh-in. Meal Tickets will be included in the registration package. All teams must be registered and athletes weighed-in by 11:30am, March 10th.


FEES:
NEW PROCEDURE: Invoices will be sent from the CSHSAA office to each Zone Secretary (South, South Central, North East, North West, North Central, Central, Edmonton and Calgary) listing the names of participants and schools from each of the respective ASAA zones. Individual schools are to make payment directly to their ASAA Zone - procedures for payment will be provided by your zone secretary.

ZONE SECRETARIES: PLEASE MAKE CHEQUES PAYABLE TO - CSHSAA
CSHSAA
St. Paul Centre
124 - 24th Avenue NE
Calgary, AB T2E 1W6
Attention: Ralene Goldade


ASAA Policy:
Individual participants failing to show: In wrestling, participating schools will need to confirm all athletes by the entry deadline. In the event that an athlete(s) fails to show, the offending athlete's school will be penalized an additional $50 per no show to a maximum of $250. The Executive will have the discretion to impose the penalty based on the rationale provided by the school for the late withdrawal.

"Pay it Forward Loonie Fee": Each provincial championship host will charge an additional $1 for each participating student and remit those funds to the ASAA office after the championship. 100% of funds will be directed into ASAA scholarship fund to recognize student athletes who give back to their communities by either coaching or officiating in school or community sport.

PLEASE NOTE: Team trophy award winners from 2015/16 must send their plaques to Wade Buteau at Bishop Grandin High School. These plaques need to be received two full weeks prior to the Provincial Championship.